When we launched the project of updating Webforum's navigation, we had a vision: a modern look, more space for what really matters, and less confusion between the workspace and project levels.
We are now ready to let you try the new look and let us know whether you think we have succeeded in our mission. To turn on the new navigation, click on your name in the top right-hand corner on the screen when you are logged in and click "Test the new look". The page will reload with the new navigation. The switch between new and classic Webforum navigation is available for all users and can be done as often as you like. It is a personal setting so it does not affect other users on the workspace.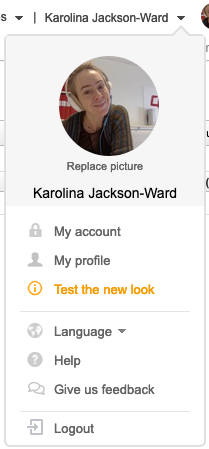 What can you expect?
No more tabs mean more space to focus on what really matters!
The top level tabs that represent the workspace level modules have moved to a new menu in the header. Here you can see, for instance, all documents that you have access to in the workspace across various projects.
Once you are in a project, a new sidebar lets you navigate between the modules in the project. A collapsed version is always available and a click on the

icon at the top opens the full project navigation.
Easier to see where you are!
Navigation generally has two purposes: showing you where you are, and allowing you to go to where you need to be. With the new navigation there is a context bar at the top of the screen that tell you your location at all times. It is easy to see when you are in a project (the red side indicates the project context) and with the workspace menu and project selector always in the header - you can reach every project and module in just a couple of clicks.
Trying it out is safe!
We have tested the new navigation both with our test team and on our colleagues for a couple of months already and fixed any problems that we have encountered. But of course we are looking forwards to hearing from you whether you love or hate the new look. Email us at support@webforum.com - or click on your image/name and use the "Give us feedback"-link.
During the phasing in period each user can decide which flavour of Webforum suits them best: the new and updated look, or classic Webforum. The switch is available by clicking on your name or image.